Event Info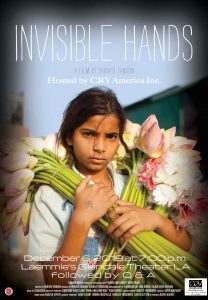 Invisible Hands is the first feature documentary that exposes child labor and child trafficking within the supply chains of the world's biggest corporations.
Join us on December 6th, 2018 at 7:00pm at Laemmle's Glendale Theater to watch the Invisible Hands film by Shraysi Tandon.
Film will be followed by a Q&A session by panelists from CRY America and Invisible Hands to discuss and share work being done for children and against human trafficking.
For details contact 
Percy
 at
or call 714-512-6499
The views and opinions expressed in this film are those of the directors and do not
necessarily reflect the official policy or position of CRY America.